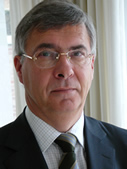 People:

Geert Lobel founder of Globel Management.

Prior to founding the company, he has professional experience of 32 years in various industrial and service sectors, mostly with blue chip companies such as Bekaert ( steel cord products, consultancy…), Paribas Bank, Rabobank, KBC ( previously Cera bank), Belgacom, the Balta group and Gimv ( private equity).
In fact, as administrator of AZ Groeninge Kortrijk, he also gained experience in the health care sector.

He occupied senior management positions in sales and marketing, finance, consultancy, general management and HR management. As a management consultant, he had senior responsibility in leading different consultancy assignments at top management level. He has a global vision on the business.
He is fluent in Dutch, French and English.

Geert Lobel has a Masters degree in Applied Economics from the Ghent University.